Finding talented software engineers is like looking for a needle in a haystack. Finding diverse talent is even more difficult. Until now.
Launch School's Capstone Placement Program enables you to build a continuous pipeline of ideal software engineers with diverse backgrounds from our pool of outstanding candidates.
Remove the uncertainty of the quality and source of your hiring needs. You can now hire confidently with the Launch School Capstone Placement Program. We all know how costly the hiring process is, let alone how unnecessarily expensive it is to find out we've hired the wrong person in their first 30 days on the job. Capstone graduates have been at Launch School for years and we help provide assurance and greater resolution into each candidate resulting in greater confidence in your final decision.
"Launch School grads are head and shoulders above other entry level candidate pools for general web development including every code school I've personally encountered and most college graduates. Besides being strong engineers, the character traits that Launch School fosters is exactly what makes for great teammates because Launch School grads have the right mindset to grow into any challenge."
Michael Mentele, Software Engineer at Facebook
Capstone Placement Program
Gain early access to a pool of highly competent and diverse candidates. Every four months when a Capstone cohort hits the market, we will send you resumes of career-ready candidates. And for every candidate you want to interview, we will provide you with higher resolution into data that spans the lifetime of your candidates' time at Launch School.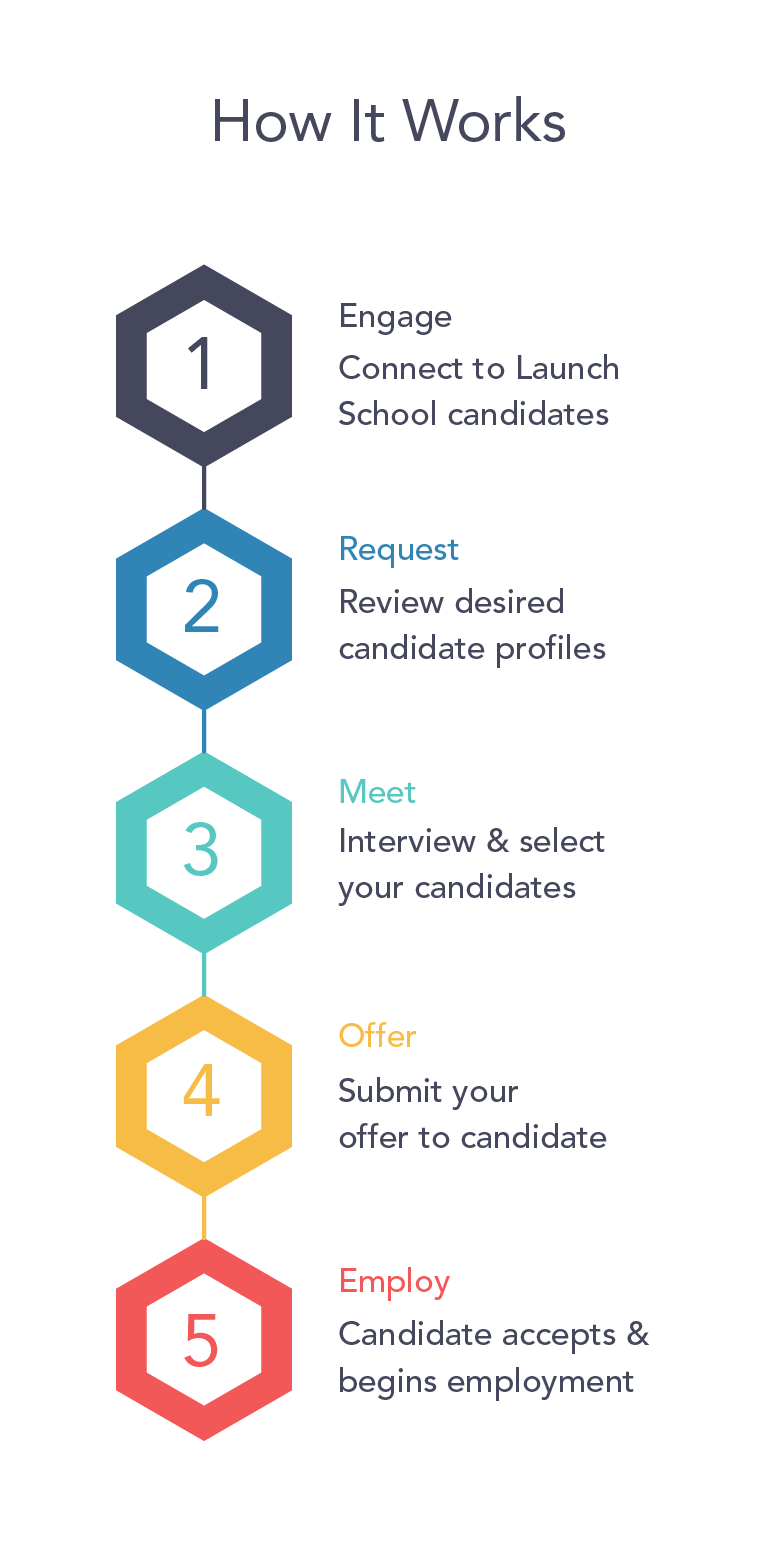 "Now that I am on the other side of the hiring table, and have interviewed a dozen candidates to date for positions across various experience levels, I can confidently say that a Launch School graduate will be more successful in the interview process than their bootcamp counterparts. I believe in Launch School's pedagogy of mastery-based learning for a long, sustainable career in software development. Since the field is constantly changing, the team at Launch School is absolutely on point with mastery of fundamentals - the things that don't change. Moreover, I believe someone who has spent years as opposed to just months to learn a skill deeply will overall make them a more appealing candidate."
Timmy Lee, Software Engineer
Why hire candidates from Launch School?
Launch School was founded by experienced software engineers for future software engineers. Launch School is an online program for learning software engineering and built for those who want to start a career in programming. We've spent the past decade teaching thousands of students from around the world, and over time, have refined our curriculum to be industry-leading.
We consistently produce engineers who know how to deconstruct and solve engineering problems. Unlike traditional bootcamps, Launch School's pedagogy is based on mastery so all Launch School candidates will have mastered programming fundamentals. Your hires will not be learning the basics of software engineering on the job. Instead, they will be implementing solutions to complex problems right alongside the rest of your team. Their ability to contribute is due to mastering software engineering fundamentals in Launch School's Core Curriculum and implementing their learnings in our Capstone, our fellowship program.
Our candidates have a structured approach to problem-solving, can work autonomously and collaboratively, as well as understand, articulate, and build solutions around complex problems.
Launch School boasts of a diverse student body. Launch School's diverse student population is made up of career transitioners in their 60s to high school graduates, doctorates, folks with multiple degrees, software engineers looking to deepen their knowledge, stay at home moms ready to re-enter the workforce, and everyone in between.
Our graduates are the best of the best. In the learn-to-code industry, key performance metrics are defined by placement rate, length of time to hire, and salary. For context, Launch School has a 100% placement rate, our grads are employed within 90 days of completing Capstone, and they command an average of $118K base salary in all markets.
"I felt like Kelvin, a Level 2 Backend Engineer, came in with the knowledge and skills needed for the job, and spent the last few months mainly trying to deepen his understanding of the company and our codebase, to figure out how to apply those existing knowledge and skills. That's what I'd expect from someone with experience."
Software Engineering Manager, Thought Machine, London
"Within two weeks of sending out my first application, I was getting contacted so often that I had to start turning away opportunities for interviews. I had the freedom to choose where I would work and I ended up accepting an incredible offer for a Software Engineer II position from a tech startup in Manhattan."
Tannr Allard, Capstone Participant
Companies who have hired Launch School's Capstone Graduates
Are you hiring smart software engineers from diverse backgrounds who can learn quickly?
FAQ
Not at all. We are more than a bootcamp. Most "bootcamps" produce what we call the "minimal viable developer" (MVD), which is a developer with the minimum skill set to sneak into an entry-level developer role.
MVD's know the buzzwords, but not the theory.
MVD's understand how to use libraries and frameworks, but not how they're engineered.
MVD's understand solutions when presented to them, but not the fundamental engineering problems at stake.
MVDs are not Software Engineers.
The Launch School Core Curriculum plus Capstone Program aims to produce software engineers who have mastered fundamentals and are ready for professional-grade engineering challenges. The entire curriculum takes 1-2+ years to complete, which immediately sets us apart from bootcamps that measure its curriculum in months.
In many ways, the goal of Launch School aligns very closely with the goal of a Computer Science undergraduate degree with one major exception: we focus on software engineering practices and not on computer science theory. In other words, we focus on producing software engineers and not computer scientists. That is, if you wish to pursue an advanced degree in computer science, Launch School won't help with that. We also don't have the general education requirements that you'd find with a traditional computer science degree.
Launch School is on par with most computer science programs in core application development languages and tools and is much closer to industry practices than most computer science courses. We have many computer science degree holders in our program, and all of them tell us that Launch School complements the knowledge and skills acquired from their computer science degree very well.
We are a results-oriented and heavily researched learning curriculum designed for a long-term career as a Software Engineer. Years of research and iteration have led us to the Mastery-Based Learning (MBL) approach. MBL is our core philosophy at Launch School and the principle that guides our curriculum and processes. Head on to the pedagogy and MBL pages to learn more.
We believe we employ the most effective training for launching long-term engineering-centric careers, and the proof is in the results.
We're the only online program whose graduates' salaries average over $118,000.
The Capstone Program is a highly selective and rigorous fellowship that goes well beyond any other training program. Capstone is the admissions-based "finishing" experience for Launch School students. It is instructor-led, team-based, and called "the hardest thing I've ever done" by most participants. Most Capstone graduates take between 1 to 2+ years of focused study to complete the entire Launch School curriculum. The results bear out that rigorous journey: the average salary for 2020 US-based Capstone graduates is $118,408. Many employers ask us what the difference is between the Capstone Program and any other coding bootcamp. The Launch School Capstone Program is different from even the best coding bootcamps in several important ways. First, most coding bootcamps spend instructor and lecture time covering fundamental topics that we cover in our Mastery-based courses; that is, coding bootcamps teach topics we treat as prerequisites to Capstone. That means Capstone covers much more advanced concepts and spends more time on engineering-centric discussions enabling our students to build Capstone projects that are far and beyond any projects that even the top bootcamps are producing. Launch School gets these results because we force people to learn the fundamentals first before entering Capstone. It's not uncommon to see projects that we cover in the Core Curriculum to be on par with some final projects from other bootcamps. That is, Launch School students' core curriculum projects (before entering Capstone) are about the same level of complexity as the final projects of some bootcamps. Second, Capstone is modeled after a university-level Master's program, with intense discussions and research-oriented projects. On the other hand, coding bootcamps are modeled after traditional factory-style education and are built to mass produce high quantities of graduates as quickly as possible. Last, the goals are very different. Coding bootcamps aim to place people into any tech-related job, whether it's programming or just programming-related (eg, evangelist, consultant, technical pm, etc). Capstone's goal is to launch careers at the top companies as Software Engineers. We do this by only admitting students who have mastered fundamentals and we then put them into an intense, intimate, and focused environment that pushes the boundaries of their capability. This type of program only makes sense for the most studious of students who have long-term ambitions of building a long-lasting career as Software Engineers. Because of the differences in the students and in the topics covered and program goals, the salaries coming out of Capstone are significantly higher than even the top bootcamps, and rival that of top universities. That's the Capstone difference. Read more about the Capstone Program here.
Employers always tell us that they are not looking for "fully formed" engineers, but those who are ready for "just in time" learning. For example, many Capstone graduates get jobs working in technical stacks that we do not cover in Core or Capstone. How can they get these jobs? It's because learning at work requires mastery of fundamentals. Our Capstone graduates are ready to learn and quickly pick up the required technology stack, whatever it may be.
Our Core Curriculum has two tracks: Ruby and JavaScript, with the Ruby track also covering JavaScript. In Capstone, we add in Golang. We also cover all the topics one may expect of proficient software engineers, like networking, databases, cloud infrastruture, and even issues that plague production systems. The full list of topics is too long to enumerate here.
There is no fee to participate in the Capstone Placement program.